A recent trip to the grocery store reminded me that Valentine's Day is upon us.  As I cruised down a particularly pink and red aisle I saw wall to wall sets of movie themed Valentines for kids.  Which made me realize that as my spawn starts to become an actual kid certain things are barreling down on me.  Valentines.  Birthday parties.  Teacher gifts.  And all of them cause me to think – what the hell?
When did teacher gifts become a thing?  I don't remember my mom having to essentially tip any of my teachers.  Teaching is an arrangement in which someone gets paid to show up and tell things to small people.  It was a nice arrangement with very clear cut guidelines – show up, learn/teach, go home.  Now all of my friends with older kids are dithering about teacher gifts around Christmas.  I recognize that teachers aren't paid enough, but crappy set of lotion at Christmas is not going to make up for that.
And suddenly if you have a birthday party for your kid there have to gift bags for the children who attend. Birthdays are the day when everyone shows up and gives the person celebrating a gift.  Why are we now bribing people to attend?  If I have to bribe you to show up then you are not my friend.  I suppose the alternative theory is that the small children cannot handle the sight of someone else receiving gifts.  But… Isn't that the entire point of parenting – teaching your kids to manage their own emotions?  So wouldn't gift bags just be me supporting your poor parenting?
Valentine's  Day has now become a flashpoint for grade school bullying.  Better give a Valentine to everyone or you're a bully.  Sounds lovely.  You know what that means in reality? It means that I have to buy Valentines.  A kid can make four or five Valentines, but no grade schooler is going to hand-craft an entire classrooms worth of Valentines.  So now I'm stuck supporting the Hallmark industry?  Swell.
Can someone figure a way out of this for me?  Can I just carbon freeze my kid at three?  Or can I start a social revolution for those of us who are anti-social?  Somebody help!
---
Originally posted on The Stiletto Gang 02.08.17
http://bethanymaines.com/wp-content/uploads/2017/02/funny-pictures-history-parenting1.jpg
476
492
Bethany Maines
http://bethanymaines.com/wp-content/uploads/2016/08/Aug2016-Logo-op3-300x69.png
Bethany Maines
2017-02-09 01:45:30
2017-02-07 22:43:59
Parent Traps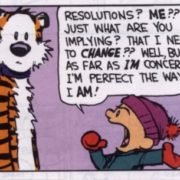 I don't believe in New Year's Resolutions.
Resolutions always seem to be negative statements.  They pit the resolver against something.  I resolve to lose weight, spend less, give up every fun thing ever, etc.
I much prefer to make goals. Goals take aim and move toward a change. I want to write more, be more healthy, learn French, wake up later.  I don't think that last one's going to happen, but it's more of a lifelong goal.
And then there's the artificial time construct of the New Year's that tricks people into waiting to start a change until January first actually rolls on the calendar.  Of course, if I were resolving to do something horrible, I'd put it off as long as possible too.  But if I want to change my life for the better, then why would I wait? Now is always the perfect time to start.
Which is not to say that the turn of the year doesn't cause me to reflect and take stock of how things are and how I would like them to go. Like a lot of people, I like to assess, predict, and then I make goals.  At the end of December, I jotted down some notes, made some plans and felt good about myself.  I'm usually pretty good at sticking to my plans and I didn't expect this year to be any different.  But then I didn't expect to be struck by inspiration that would send me furiously typing down the rabbit hole of a new story.
And now here it is the end of January and I feel like one of those people who've managed to blow up their diet and their resolution two weeks after starting.  I mean, I feel guilty about not sticking to the plan, but not really that bad as a shove another chapter in.  In fact, that chapter was delicious and really would it really hurt if I had another?
I can always get back on the plan later, right?
***
Originally posted on The Stiletto Gang Blog 01.25.17
http://bethanymaines.com/wp-content/uploads/2017/01/122110-calvin_resolutions.jpg
305
400
Bethany Maines
http://bethanymaines.com/wp-content/uploads/2016/08/Aug2016-Logo-op3-300x69.png
Bethany Maines
2017-01-26 05:29:05
2017-01-25 05:32:46
Resolution Failure
The title of today's blog is not facetious.  I do swear.  Kind of a lot.
I try not to in public.  Much like public displays of affection, I find it inelegant to be assaulted by profanity that I'm not participating in.  I think keeping a lid on my foul mouthed habit is only polite and try to reserve it for private situations and friends who have known me long enough to not take offense.  As a result, a few of my acquaintances have been surprised to find themselves on the receiving end of a periodic f-bomb.  (Yes, I'm the person who should receive this paperweight as a gift.) In the past curbing my tongue has not particularly onerous, but since my child has moved into speaking and comprehending, you know, actual words, life as a purveyor of profanity has become more difficult.  Now I can't even swear in my own home?!  Word swaps and humming the Star Spangled Banner do not really help.  (Son of a goat monkey, keeping my swearing on the inside is hard!)
In most of my books, I've minimized the swearing to a solid "hell" or "damn" because well, my grandmother likes to read my books.   But recently, I've begun working on a story that moves my swearing habit to the forefront.  Rather than really "messing some stuff up", I am straight  "f***ing some s*** up" for a change.  And ooooh, does it feel good.  Ah profanity, how dost though trip lightly off my off my keyboard and onto the page?  Very lightly indeed.
Many comments on profanity seem to insist that profanity is the crutch of mind unable to think of something else to say.  I completely disagree.  To correctly use profanity one must have an understanding of language that allows you to use the f-word as a verb, a noun, and an adjective. (Yes, it really can – see examples here).
Will my completed manuscript stay chock full of profane goodness?  I don't know, but I'm sure as **** interested to find out.
http://bethanymaines.com/wp-content/uploads/2017/01/swearing.jpg
521
500
Bethany Maines
http://bethanymaines.com/wp-content/uploads/2016/08/Aug2016-Logo-op3-300x69.png
Bethany Maines
2017-01-12 00:00:43
2017-01-12 21:51:44
I Swear...