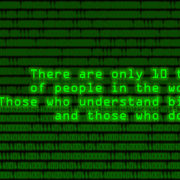 For me, Thanksgiving and the coming end of the year frequently combine to make me philosophical and prone to navel gazing.  Just what have I been doing with my life?  Am I grateful? Am I curating my life in the path of gratitude? Do I even want to?  Why should I have to? Is this my problem? Is this my fault?  Then I start humming Paul Simon's "
Gumboots
" and then go shove some pumpkin pie in my face. Tuesday's Stiletto Gang post from J.M. Phillippe discussed the nature of gratitude, particularly in the face of difficult times –
When Gratitude isn't Easy
– and struck a chord with me.  I thought she expressed beautifully the idea that gratitude is not a binary thing, it's a plus thing.  Gratitude can be added like a spice to any recipe.  Even if I'm feeling other things, it doesn't mean I can't feel gratitude. But the very concept of binary got me to thinking about our radically non-binary human nature and how it is so very at odds with our consistently binary thinking.  We all have that one relative who is "such a nice guy, except for (fill in the blank)" Fill in the blank could be anything from his random use of racial slurs, his insistence on patting the waitress on the behind, or the fact that he tells jokes about Asians.  He doesn't cheat on his wife (but maybe on his taxes), he doesn't use drugs, he holds open doors for people.  Except… So is this character a good person or a bad person?  Binary says: yes/no.  Non-binary says: depends on other factors – I'll have to really think about this.  I'll have to think about my own moral stand on multiple issues.  And also, does he kick puppies? Because that's a deal breaker. From a writing standpoint, this is the kind of thing that's fascinating to explore.  But in real life, during an election season, it's made Thanksgiving a cringe worthy holiday where we all go and wonder if Republican Uncle Bob is going to get more than his turkey sliced if he brings up Trump to Democrat Aunt Jane.  I don't have the answers.  I'm not sure any of us do.  That's why binary is so attractive.  Make the decision,  yes/no, and then I don't have to think about it anymore.  Non-binary means I have to keep revisiting the topic – to keep thinking.  If binary trims away the indecision, then it also trims away the additional factors – the pluses.   Good/bad.  Yes/no. Happy/sad. Grateful/non-grateful.  Is that what we want the answer to be?
If that's the way it's going to be, I'm going to call this whole thing to a halt.
-- Gumboots, Paul Simon And now if you'll excuse, I hear a pumpkin pie calling my name.
http://bethanymaines.com/wp-content/uploads/2016/11/binary1.jpg
663
1024
Bethany Maines
http://bethanymaines.com/wp-content/uploads/2016/08/Aug2016-Logo-op3-300x69.png
Bethany Maines
2016-11-24 01:00:42
2016-11-22 22:14:57
Binary Thanks
You're stuck in a lifeboat in the middle of the ocean with 8 strangers and no food or water, who do you eat first? Dystopian novels have held a prominent place on our national reading lists for the last few years and while I occasionally enjoy a jaunt into the horrific futures that we could create for ourselves they don't really speak to me.  To me they frequently seem like the ultimate lifeboat game. While occasionally it's fun to work through the logic of how to survive in a treacherous situation, the real answer to any lifeboat game is to not get stuck in the lifeboat in the first place.
I was reminded of this principle recently when I visited a conference for my day job (graphic design). The conference was for public works personnel (AKA everyone who keeps your city functioning) and their lunch speaker spoke on how their department had handled an earthquake.  From personnel rotation, calling in reinforcements, clearing roadways, reviewing housing safety, clean up – this department moved swiftly with the goal of maintaining safety and returning their town to normal in the shortest amount of time possible (and they did a great job).  But having just read a dystopian novel I was struck by the realization that not one person in the room was thinking… "Bob, I'd eat Bob."  They weren't playing the game – they were strategizing about how to not get stuck on the lifeboat. All of this led to four thoughts.  One – I'm incredibly grateful for our public works personnel.  From sewer maintenance, to bridge engineers, to water management, they deserve more recognition than they get.  Two - All of you great public employees are screwing up a perfectly good dystopian plot line RIGHT NOW.   We're not supposed to be coming together to overcome a natural disaster and working for the common good!  Come on, people.  Where is the divisive hatred and the reaching for the shotguns? That's it; I'm breaking out the zombies.  Bob is going to be dinner if I have to have three plot contrivances before breakfast.  Three – We as society need to invest more in infrastructure.  And four – Because we don't invest more in infrastructure we all need to have 3 days to 2 weeks of supplies on hand depending on where you live.  Be prepared. Don't let a dystopian novel happen to you.
http://bethanymaines.com/wp-content/uploads/2016/08/Aug2016-Logo-op3-300x69.png
0
0
Bethany Maines
http://bethanymaines.com/wp-content/uploads/2016/08/Aug2016-Logo-op3-300x69.png
Bethany Maines
2016-11-09 18:18:03
2016-11-08 18:21:53
Dystopian Games
Writer's Group: to gather with others to read and critique excerpts of written work Reading Group: to gather with others to read and critique books, drink and snack When done correctly, a writer's group can operate as an auxiliary brain or a training ground to push a writer forward in her craft.  They can be fun, inspiring and incredibly helpful. They can also be a sucking hole of negativity and wasted time. With that in mind, it was with some trepidation that I recently tested out a new group. The hostess had a dog (bonus points) and they had established a rule of positivity and compliments before critiques (nice).  They had a time keeper and a word count on the segments we read (organized!). Each writer was doing different genres and styles, but that had the benefit of bringing diverse points of view to the table.  In general, it was great. It provided very valuable feedback and I can only hope that I was equally helpful to the other writers. However, in specific, it was wee bit disappointing as there were no beverages or snacks.  The reasoning – that hosting the group was enough trouble and that we were here to do actual serious work, not carouse – makes total, logical, absolute sense.  But in the sense of "it's been a long week, and Bethany wants a potato chip and a glass of something" it was less than I had hoped for. I think, possibly what I was really hoping for was a Reading Group.  Every Reading Group I've ever attended came with crackers, cheese, and wine – the three low effort food groups. Now, in defense of the writer's group, very few Reading Group's I've ever attended actually stayed entirely on topic.  There was a lot of… uh… digression, shall we say.  And time keeping was absolute disaster.  And learning was sort of ancillary by-product of reading a book I didn't pick out, but gosh darn it, the artichoke dip was fantastic. So next month?  I'll be packing my own snacks to the writers group.  After all, that group comes with a dog.
http://bethanymaines.com/wp-content/uploads/2016/10/bella-new-critique-group.png
364
516
Bethany Maines
http://bethanymaines.com/wp-content/uploads/2016/08/Aug2016-Logo-op3-300x69.png
Bethany Maines
2016-10-27 12:30:03
2016-10-24 21:13:27
Writers vs. Readers