WELCOME
Bethany Maines, a native of Tacoma WA, is the author of the Carrie Mae Mystery series (from Simon & Schuster), and Tales From the City of Destiny. When she's not traveling to exotic lands, or kicking some serious butt with her fourth degree black belt in karate, she can be found chasing after her daughter, or glued to the computer working on her next novel.
High-Caliber Concealer (CM #3)
NEWS
High-Caliber Concealer, third in the Carrie Mae Mystery series will be released on November 17, 2015! When Nikki visits her childhood home in Washington State everyone wants a piece of her, including drug runners, an angry Sheriff with an axe to grind, and the boyfriend who left her broken-hearted. Nikki may be a High-Caliber Concealer, but this time it might not be enough. Pre-order now for print, Kindle or all other devices!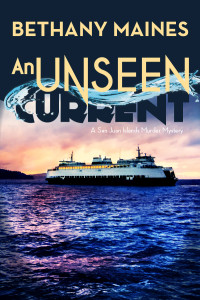 Bethany's latest novel, a murder mystery set on Orcas Island in Washington State is now available! Find out more about An Unseen Current or order now for print, kindle or other devices!
CATCH UP
Catch up with Bethany every second and fourth Wednesday of the month at The Stiletto Gang blog, and every six weeks at the Girlfriends Book Club.
BUY THE BOOKS
Amazon/Kindle • Barnes & Noble • IndieBound • Books-A-Million
Kobo • Google Play • iTunes
Maines deftly combines humor with action in this fashion-forward thriller, which will remind many of such TV shows as Charlie's Angels, Alias, and Heroes.
Oh, and by the way — if you're taking it on vacation with you … make sure nobody's going to give you a hard time if you get an occasional urge to read the funniest parts out loud. It is, after all, a Bethany Maines caper!
A must read for chick lit fans that enjoy a little mystery and suspense in their books.
This series is my new favorite mystery/chick lit since Janet Evonovich's Stephanie Plum. I cannot wait for more. 
Maines turns in a tale full of surprises… with a clever premise in this madcap romantic adventure that is as humorous as it is action packed.
it's a breezy page-turner, full of action and fun… Bulletproof Mascara is light and amusting, perfect for a lazy weekend or long plane flight. Beauty addicts, you'll enjoy!
SheKnows Chick Lit says it's just plain fantastic and fun. And just call Bethany Mains the new 007 of Chick Lit. Can't wait for the next book in the series.
Although I rolled with laughter every chapter or two, the situations never slipped away from "this could really happen!" Maines provides a merry and snugly plotted rejoinder to John Burdett's Thailand crime fiction, while creating in Nikki a modern-day, well-groomed, James-Bond-in-lipstick.