The Shark Santoyo Boxed Set
Complete Series (1-6)
Release Date: November 2021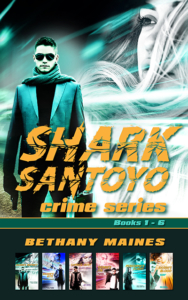 The criminals are savage, the stakes are high and even the suburbs hide secrets that can kill.
When twenty something Shark got out of prison and made a deal with Geier, the boss of his old gang, he knew he'd be walking into trouble, but he never expected to meet the teenage crime savant Peregrine Hays. The knife-wielding beauty may fuel his dreams, but Peregrine has secrets of her own, and soon Shark is swept up in a whirlpool of murder, revenge, and love. Both streetwise and hardened by dark pasts, Shark and Peri are the perfect match as they battle crooked federal agents, sex traffickers, and gangs in search of vindication. But when Shark is faced with an enemy that knows him better than anyone else, he and Peri learn that their options may be staying together OR staying alive…
Blue Zephyr Press • E-Format
Anti-heroes, bad guys, uncles and the dynamic crime-fighting duo of Shark and Peri equal reading bliss, especially if you like some heart, brains and wit with your down-and-dirty grit.  All I can add is READ IT.
Read the full review @ Tome Tender
I thoroughly enjoyed this book. It was unexpected in the best possible way. It's gritty and a bit hardcore but has good bits of humor and lightness mixed in.
Read the full review @ Book Bub.
Witty, clever and filled with some fascinating characters, SHARK'S INSTINCT is far from your typical mob style mystery! … a fun read with attitude and a collection of characters are sharp, a little daring and most likely more than they appear to be on first glance.
Read the full review @ Tome Tender
Quick, witty, great characters, and a fun romp thru a seedy world of suburban crime. I especially loved Peri, cheeky, brilliant, unexpected teen crime savant as she collides with surprisingly relatable Shark and his gang of wise guys and drug dealers. Give me the next installment now!
SHARK'S BITE: Humor, heart, a touch of forbidden romance, tons of action, bad guys being bad, good guys being bad and did I mention Peri being Peri? The young woman … is deviously brilliant with a bark that isn't nearly as dangerous as her own bite.
Read the full review @ Tome Tender
I loved how it was irreverent and funny. It was so easy to start because the author just sort of dove in with the action and angles and I was invested from the beginning.
Read the full review on Goodreads

Shark's Instinct (#1)
Fresh out of prison and fresh out of luck, twenty-something Shark wants back into The Organization. But when Geier, the mob boss with a cruel sense of humor, sends Shark to the suburbs to find out who's been skimming his take, Shark realizes he's going to need more than his gun and an attitude to succeed. With the clock ticking, Shark accepts the help of the mysterious teenage fixer, Peregrine Hays, and embarks on a scheme that could line his pockets, land him the girl and cement his reputation with the gang—if he makes it out alive.
Blue Zephyr Press • Print & E-Formats

Shark's Bite (#2)
Shark has been doing his time in the suburbs and doing his best to stay away from Peregrine Hays. But when Shark becomes the target of a crooked ATF agent, he has no choice but to call on Peri. As they attempt to close down Fowler's operation, Shark and Peri must contend with an angry biker gang, Shark's smoking hot parole officer, Peri's alcoholic uncle, and their own undeniable attraction to one another. And Shark begins to suspect that Peri has her own reasons for being interested in Agent Fowler. Can Shark walk the knife edge between Peri, his gang and the law to bring down Fowler and get back into the upper echelons of The Organization?
Blue Zephyr Press • Print & E-Formats

The Shark Tank
Start at the very beginning with the short story – The Shark Tank – and meet Shark before Peri, before prison, and before everyone wanted him dead. But not before he found the perfect couch.
E-story • $0.99

Shark's Hunt (#3)
After being blackmailed into abandoning Peri by her uncle Al, the ex-special forces private investigator, Shark knows he must focus on his mission—bring down Geier. But it's a mission complicated by a brewing gang war between The Organization and the Scarecrow Jacks. And when Geier sends Shark head-hunting against the Scarecrows, Shark finds his paths crossing with Peri once again. And soon, Shark finds that he may be forced to rely on Al to not just survive, but to save Peri.
Blue Zephyr Press • Print & E-Formats
Shark's Fin (#4)
When Shark Santoyo made a deal with the FBI to gather evidence against Geier, the boss of The Organization, he thought he'd be done in a few weeks.  But six months later Shark is faced with an FBI handler who is working against him, an assassination investigation and an increasingly erratic Geier. Shark has only one goal in mind: make it out of this mess alive back to the only girl who has ever held his trust and his heart—Peregrine Hays.  But threats from within the gang and without have the net drawing ever tighter. This may be one trap he won't be able to swim away from.
Blue Zephyr Press • Print & E-Formats
Peregrine's Flight (#5)
Release Date: June 12, 2020
Peregrine Hays has always been able to see the angles and fix any situation—but even she can't fix the death of Shark Santoyo. All Peri wants to do is finally move on, but when mysterious new player Hernan Arroyo comes to town looking for Shark and digging up the past, he unwittingly puts Peri in the path of the Reyes brothers, their hunt for a smuggler of stolen Mayan artifacts, and a shadowy figure known only as the Mannequin. Peri is struggling, but maybe with the help of her friends, she can learn to fly.
Blue Zephyr Press • Print & E-Formats
Shark's Blood (#6)
Release Date: July 19, 2021
Shark Santoyo is dead.  Or at least he was.  But now he's back in the city chasing an art thief and dreams of the past.  He has no intention of going anywhere near Peri—she left him to rot in prison. But when Al Hays brings them back together, Shark vows that nothing is going to keep them apart this time. Except that Peri isn't the only ghost of girlfriends past in his life. Francesca de Corvo, the woman who sent him to prison for a crime she committed, seems to be coming for him with both barrels.
Blue Zephyr Press • Print & E-Formats
The Shark
&

Peri Playlist