The Supernaturals
The Supernaturals have always been with us—shifters, elves, trolls, vampires, and all manner of fairy tale creatures walk this earth. While not all humans want to share our world, sometimes destiny can make a wolf can meet just the right girl down a lonesome path or Fae can meet the wolf of his dreams on his way to save the world. Some things are fate and some things are just… Supernatural.
This fantastic page-turner is a paranormal romance that sizzled, and it excited and riveted me. Read the entire review.
The story had the hot sex and the dominate alpha, there was suspense, mystery, and magic.
Cancel your afternoon and start the obsession with this new series…
I loved this book (A Deeper Blue) so much I went back and read the first one again.
The beautiful plot, unique storyline… & careful development of the story & characters locked me in… Read the entire review.
Yes! I loved this world so much! I read this book in one sitting. I was so sad to see it end.
For fans of shifter romance, boss/secretary power dynamics, and spicy yet easy to read fiction – A Little Red is bound to satisfy.
A wolf, a girl, and the city…
not everything here is what it seems.
A witch, a wolf, and the open road…
no future is guaranteed.
A scientist, a wolf, and the woods…
not all paths leave the forest.

The Rejects Pack of Greece has few friends and a host of enemies. Led by wolf-shifter Alekos Ash, and comprised of lone wolves and one human and – they're on a mission to find the Nazi ship that caused the Night of 1000 Deaths. But as pack members search the globe for answers, they find more danger, love, and mysteries than they bargained for.
Book 1:  Hudson
Hudson Knox has been sent to Germany by his pack to research the last known location Nazi ship that caused the Night of 1000 Deaths. But in the Arolsen Archives he discovers that Neo-Nazi warlocks and a brilliant Egyptology grad student, Yazmin Hunter-Blake, are hunting the same information. When warlocks attack, revealing the Supernatural world to Yazmin, she is forced to team up with Hudson to trace the path of Sir Barnabas—the first warlock and Crusader knight—through Germany to his final resting place. Hudson knows that discovering the secrets of warlock magic could change everything for the Supernaturals, but he is still determined to protect unflappable and irresistible Yazmin. But with warlocks on their trail, Hudson and Yazmin might end up sharing the knight's tomb unless they can figure out the ancient secrets that activate the magic within.
Book 2: Killian
On a mission to re-discover how to create werewolves, Killian Adiche journeys to the long lost Library of Alexandria. But Killian isn't alone in the library.  Pursued by warlocks, and unexpectedly allied with Moire DeSandre of the Portland pack, Killian finds that he may soon have to choose between his own desires and what's best for his pack.
Book 3: Alekos
Alexander Ash  is on the brink of solving the mystery of the Night of 1000 Deaths, but with Hudson missing, Killian lost in the Library of Alexandria, and warlocks returning to Greece, his pack is unraveling.  When an accidental meeting with twenty year old translator Eliandra Smith sweeps her into the Supernatural world, Alex discovers that while Eliandra might be his fated mate, she also might be the one thing that can kill them all.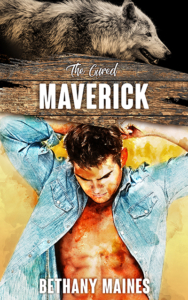 The Lucas family and the Portland Pack have bribed, cajoled, and coerced as many wolves as they could into taking the cure, but very few actually believe it's going to work.  But as the cured wolves scatter out into the world, some unexpected things begin to happen.
Book 1: Maverick
Release Date: 07.12.22
Maverick Lacasse grew up with no parents, no pack, and no knowledge of his birthright as a Shifter wolf.  Always on the outside and two steps ahead of the law, Maverick is only out for himself, but all that changes when he finds Deya Jasper strapped to a table in a vampire owned whorehouse in Littleton, Texas. Deya had no knowledge of the Supernatural world right up until her step-father sold her to vampires to cover his poker debts. But Deya can't deny the terror she feels when she looks into the hungry eyes of the vampire madame who owns the brothel. When Maverick offers to help Deya escape in return for a tiny bit of help robbing the bank next store, she gladly agrees. But as the two head for California, vampires begin to dog their every step, and both Deya and Maverick find themselves questioning if the unexpected bond they feel can withstand the dangers they face.
Maverick takes place in the Supernatural world of the 3 Colors Trilogy, but is a stand-alone novel.