The fourth Shark Santoyo novel is now available! You can read the entire series on Kindle Unlimited and look for book 5 – Peregrine's Flight – coming in June.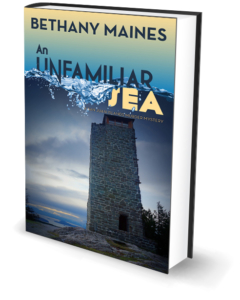 The third San Juan Islands Murder Mystery novel is now available! Read a character interview, find out about the plot or see a new review.

Carrie Mae Mysteries
The Carrie Mae make-up ladies aren't just selling lipstick – they're packing heat and saving the world.
Shark Santoyo Crime Series
Where the criminals are savage, the stakes are high and even the suburbs hide secrets that can kill.
San Juan Islands Mysteries
Deceit, deception, spies and murder? Include a dog, and that's everything we love…
Maines deftly combines humor with action in this fashion-forward thriller, which will remind many of such TV shows as Charlie's Angels, Alias, and Heroes.
A steamy romance … resulting in a giant twist. Compelling with great characterizations.
Make sure nobody's going to give you a hard time if you get an occasional urge to read the funniest parts out loud. It is, after all, a Bethany Maines caper!
A must read for chick lit fans that enjoy a little mystery and suspense in their books.
This series is my new favorite mystery/chick lit since Janet Evonovich's Stephanie Plum. I cannot wait for more. 
Maines turns in a tale full of surprises… with a clever premise in this madcap romantic adventure that is as humorous as it is action packed.
It's a breezy page-turner, full of action and fun… Bulletproof Mascara is light and amusing, perfect for a lazy weekend or long plane flight. Beauty addicts, you'll enjoy!
SheKnows Chick Lit says it's just plain fantastic and fun. And just call Bethany Mains the new 007 of Chick Lit. Can't wait for the next book in the series.
Maines provides a merry and snugly plotted rejoinder to John Burdett's Thailand crime fiction, while creating in Nikki a modern-day, well-groomed, James-Bond-in-lipstick.
I haven't read this author before but I love what and how she brings it to the table.
This was easily one of the best books I picked up since the year began.
Peregrine's Flight - Shark Santoyo (#5)
The Cinderella Secret - Deveraux Legacy (#2)
Shark's Blood - Shark Santoyo (#6)
All Books by Bethany Maines