Q: What do you get when you cross Avon Ladies
with Charlie's Angels?
A: A world-class intelligence organization run by women who really know their foundation. You get CARRIE MAE.
The Carrie Mae Mysteries Boxed Set
Two Short Stories, Two Novels, One Low Price
These make-up ladies aren't just selling lipstick – they're packing heat and saving the world. Join Nikki Lanier and her team of kick-ass friends as they take on gangs, drug smugglers, arms dealers, and internal politics, all while looking fabulous or at least trying to remember clean underwear.
Featuring the short stories Supporting the Girls, Power of Attorney and the novels High-Caliber Concealer, Glossed Cause.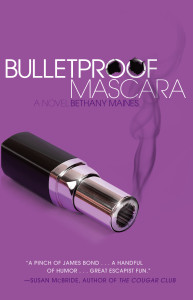 When unemployed twenty-something Nikki Lanier was offered a position with the Carrie Mae cosmetic corporation, she leapt at it. But soon, Nikki learns that the powder and lipstick are simply cover-up for the Carrie Mae Foundation: a secret organization of international espionage founded for the purpose of "helping women everywhere." This might be her dream job, but she might need some Bulletproof Mascara to survive.
When a complex mission and her relationship go sideways thanks to some Carrie Mae politics, Nikki is left stranded in Europe, babysitting bad-boy pop star Kit Masters, and on the trail of a Basque anarchist. But dodging bullets has never been more romantic as she and Kit make a dash through Paris to capture the terrorist. Nikki might just need to make a Compact with the Devil to resist Kit's charms and solve her case.
When Nikki's visit home is interrupted by drug smugglers (and the ex who broke her heart), Nikki must call in the girls to help her solve the mystery. But she also has to keep her family – and her boyfriend – in the dark about what she really does for a living. Soon Nikki must choose between keeping her secret and keeping her loved ones alive. Nikki might be a High-Caliber Concealer, but this time it might not be enough.
When Nikki Lanier's nemesis Val Robinson returned from the dead with a request to rescue Nikki's long-absent father, Nikki dropped everything to go do it. But soon Nikki realizes that if wants her life back, she's going to have not only save her father, but convince her boyfriend that Carrie Mae isn't a terrorist organization, and stop an international arms dealer. Can she do it, or is it a Glossed Cause?
Carrie Mae Mini-Mysteries

Supporting the Girls
Join Nikki and her covert team of make-up ladies on a brand new adventure! With the future of the Carrie Mae charity branch hanging in the balance, the girls go to work battling the gangs of the Motor City. When one of the real Carrie Mae ladies asks the Foundation for help they send in Nikki Lanier and her team of covert agents. Nikki's got a lot of tricks up her sleeve, but will it be enough to keep a girl out of the gangs?
E-story • $0.99

Power of Attorney
Nikki Lanier was enjoying a slow week covering for Mrs. Merrivel (away on a top secret mission), but when Mr. M lands in the hospital, she knows everything is about to go south. However, even Nikki isn't prepared for the skeletons that are about to crawl out of Mr. M's closet. Can Nikki and the girls protect Mr. M and unravel his mysterious past without compromising Carrie Mae secrets? Nikki never thought that a week at home could be so dangerous.
E-story • $0.99