San Juan Island Mysteries
If you're looking for a summer mystery that's likely to get you cheered up, in spite of murder and risk, and will find a way to have the forces of good triumph (or at least get kissed?), pick up AGAINST THE UNDERTOW.
I loved, loved, loved these two books. It's a series I hope goes on forever.
Loved this book! I really couldn't put it down … Ms. Maines has a very good sense of humor and the main character, Tish, really appealed to me. I loved the setting, and even though I haven't been there from the descriptions in the book it was easy to imagine myself in the San Juan Islands in Washington state. I can see that this will make a great series with original characters and many fun situations to entertain me/us. I am very much looking forward to the next book! Hopefully there will be a series?
I loved this book, it was full of quirky characters, a stubborn deputy, and lots of plot twists.
This book was wonderful! I purchased it as an unknown, and it was the best surprise. Sometimes we just get lucky. Very nice humorous touches with realistic situations. Tish and Tobias are a wonderful granddaughter, grandfather combo. I hope that this storyline continues on.
It is difficult to stop reading the book once you start. If you appreciate a fascinating, cleverly plotted, entertaining mystery with numerous twists and turns, making it a delightful read, this book is for you. I'm looking forward to reading of Tish's adventures as she acclimates to Island living.
I really enjoyed this book especially for the writing style. This is my first time with this author and since the new book in the series is coming out in June I had to buy this one and I'm sure glad I did. Well written and edited. What I enjoyed the most is the realistic interactions & dialogue between the characters. The dialogue was very blunt and sarcastic at times but was very true to life and made the characters very real. Really liked Tish and her 78 yr old grandfather Tobias who is former CIA and their relationship.
This book will keep you guessing until the end! 
It reminds me of the Stephanie Plum mysteries – I couldn't stop laughing the entire time I was reading. 
The author's mix of murder and mystery with a heavy dose of light-heartedness is once again a winning combination. Warning to readers, Tish's thoughts and reasoning may cause you to laugh out loud as I did, so you might not want to read this book (An Unfamiliar Sea) in public.
AN UNSEEN CURRENT
You never know what's beneath the surface.
When Seattle native Tish Yearly finds herself fired and evicted all in one afternoon, she knows she's in deep water. Unemployed and desperate, the 26 year old ex-actress heads for the one place she knows she'll be welcome – the house of her cantankerous ex-CIA agent grandfather, Tobias Yearly, in the San Juan Islands. And when she discovers the strangled corpse of Tobias's best friend, she knows she's in over her head. Tish is thrown head-long into a mystery that pits her against a handsome but straight-laced Sheriff's Deputy, a group of eccentric and clannish local residents, and a killer who knows the island far better than she does. Now Tish must swim against the current, depending on her nearly forgotten acting skills and her grandfather's spy craft, to con a killer and keep them alive.
Blue Zephyr Press • Print & E-Formats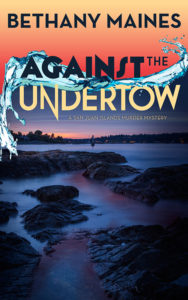 AGAINST THE UNDERTOW
You never know what will drag you down.
Former actress Tish Yearly is determined to turn an old Orcas Island homestead into the premier wedding venue in the San Juans Islands of Washington, but money, skill and her grandfather, Tobias Yearly, are all standing in her way. Tobias, the septuagenarian ex-CIA agent, wants them to become private investigators. Tish might be able to ignore her grandfather's whims, except that her one time love interest and current friend, handsome Sheriff's Deputy Emmett Nash, was just accused of murdering his ex-wife's boyfriend. Now Tish and Tobias are on the case, and it should be easy—after all, who could really think Nash was a killer?—but the further they investigate, the more people seem to be threatening her life: the police detective on the case, Nash's angry ex-wife, his psychotic ex-girlfriend, and a strangely venomous group of hippies. Almost everyone on the island seems determined to stop her. Tish is swimming against the undertow, but it might not be enough to save either Nash or herself.
Blue Zephyr Press • Print & E-Formats

AN UNFAMILIAR SEA
In a storm, you never know which way is home.
Tish Yearly is about to open a wedding venue on Orcas Island, in the San Juan Islands of Washington State. All she wants is to sail through her first wedding, figure out why her best friend isn't talking to her, and tell her grandfather she's dating someone he doesn't approve of. But before she can get to any of that, Tish's favorite employee turns up dead—apparently drowned in four inches of water. Now Tish, and her grandfather, former CIA agent and current curmudgeon and licensed P.I. Tobias Yearly, are wading through the suspects including a meth-cooking uncle, a brother with anger-management issues, and the mysterious island drug kingpin, who may or may not be going straight. Tish is attempting to navigate this unfamiliar sea, but she may not be able to weather the storms to find her way home.
Blue Zephyr Press • Print & E-Formats