San Juan Island Murder Mysteries
An Unseen Current Review
New Setting, New Characters, but a Classic Bethany Maines Mystery! AN UNSEEN CURRENT (San Juan Islands)
I've never held back on blunt truth about 
the mysteries that Bethany Maines framed
 in her multilayered "Carrie Mae" cosmetics and espionage corporation: They are funny to the point of getting a stitch in your side, or interrupting the quiet evening of anyone else in the house by chuckling, giggling, guffawing, and (unladylike) snorting at the situations and reactions in these "caper"-style mysteries with an indelible "just us girls" twist to them.
With AN UNSEEN CURRENT, set in the San Juan Islands off the coast of Washington State, Maines dials down the creative confusion and hilarity a bit, to spin a more traditional mystery featuring out-of-work actress Tish Yearly. Evicted from her apartment at the same time that she loses her (non-acting) job, Tish takes the last and least appealing choice open to her: She drives onto the ferry and heads for her grandfather's home, desperate enough for a place to stay (and lick her wounds) that she's willing to barter cleaning out the elderly man's sheds and home in exchange.
But Tobias Yearly isn't quite the cutesy grandpa Tish thinks she's running to — even though the two of them are walking with shared grief about the untimely death of Tish's dad, they don't know much about each other. Tobias's close friend Reginald, serving up a welcoming dinner for Tish, is only too ready to tell at least one secret: Tobias used to be a CIA agent.
Tish hasn't had enough time to process this by the next morning, and at that point, it's too late for that sweet across-the-generations helpfulness she thought she'd bought into — because Reginald's been murdered, and both Tish and Tobias are "persons of interest."
Maines keeps the plot bouncing, with well-applied risk and tension, plenty of humorous moments (they're just not quite as extreme as in her first two books!), and even a strand of romance or, as Tish is willing to name it, lust — but does it have to focus on the officer of the law determined to investigate her? Ouch!
Amateur sleuth though she is, Tish quickly learns from her grandfather that pro acting skills apply very well to analyzing whether suspects are lying, and of course to infiltrating and investigating.
"Too bad he's lying," said Tish and Tobias at the same time.

"You can't know that!" exclaimed [the waitress] Amber, clearly a romantic.

"I was not with Shelley last night," quoted Tobias. "Used her words to construct his denial, and no contractions, that's a very bad sign."

"He practically built a wall between them with the condiments," said Tish, "And he kept turning his body away from her."

"Not to mention the off-timing on the emphatic finger poke," said Tobias.

"Yeah, that was way off," she agreed, nodding.

"What are you two? The lie detecting duo of Orcas?" demanded Amber.
Matter of fact, Tish and Tobias make a great team, one of the few investigating granddaughter-grandfather setups around! Tish is smart, quick on the uptake, and soon is way too close to the probable perpetrators of the crime.
AN UNSEEN CURRENT gives a lively, good read, in traditional mystery format, with good twists and the right amount of danger and deception. I enjoyed it — actually, I couldn't put it down! Available as an e-book, and also by "print on demand." Ignore the typos (I did, for the most part) and zip into the fun. Oh, and by the way — if you're taking it on vacation with you … make sure nobody's going to give you a hard time if you get an occasional urge to read the funniest parts out loud. It is, after all, a Bethany Maines caper!
Against the Undertow Review
San Juan Islands Mystery #2, AGAINST THE UNDERTOW, Bethany Maines
Bethany Maines
 admits she cares a lot about the entertainment tucked into the mysteries she writes — she weaves clever grins into her plots as easily as the suspense. In the second book of her San Juan Islands Murder Mystery series, AGAINST THE UNDERTOW, displaced actress Tish (never Patricia!) Yearly hopes to get her wedding venue established at last, so she can start earning some money. Jobs on the rainy islands off the coast of Washington State are scarce and don't pay terribly well. But she's scraped up just enough funding to create a professional kitchen in a small house with  gorgeous surroundings, and why shouldn't it work out?
Well, one thing making it tough is Tish's role as junior partner (a way of making her caregiving more acceptable) to her aging grandfather Tobias Yearly, an ex-CIA agent determined to turn Tish and himself into official private investigators. Of course at his age, he's not exactly "up" on all the technology that "snoops" now use — good thing Tish can handle that end. Meanwhile he's prudently made up business cards that should do for both of them: T. Yearly, plus Tish's cell number.
I chuckled my way through the first book in this series, An Unseen Current — well, to be honest, I chortled and belly-laughed enough to disturb my spouse's TV watching — and Maines's earlier series, the Carrie Mae espionage adventures, were also side-splitting. So the mild chaos at the opening of AGAINST THE UNDERTOW seemed promising to me: Tish's not-quite-boyfriend (she's officially seeing someone else, but the chemistry can't be mistaken), Sheriff's Deputy Emmett Nash, needs a quick escape and alibi from accusation of murder, and the next thing you know, Tish is quietly letting her grandfather know she's got the deputy tucked into the trunk of their car, as they exit the ferry, the main route to the islands.
Count on quick twists, as Tish's BFF from the mainland arrives in "cute" overalls to help with the rehab, and a mess of messed-up hippies turns threatening (yep, plenty of gasps of amusement in there), while Tish is trying to take crime-solving seriously for the sake of Deputy Nash (and so she can get back to her construction work). She tells her feisty grandpa that she's concerned:
"I feel like we should be further along in solving Tyler's murder. Or have more suspects. Or something."

"It's the suspects that trouble me," said Tobias leaning back. "I'm not saying women can't kill — they're perfectly capable. I just don't particularly see these ones doing it."

"Well, apparently anyone can be a killer," said Tish. "If Detective Spring is to be believed."

"No, not really," said Tobias. "What he means is that evil people can be perfectly normal. You know why the rate of PTSD went up so much in Vietnam?"

"Clearer reporting, destigmatization, and a better understanding of the problem?"

"Thank you, Miss Social Sciences. No. Well, probably those had an effect. But also, there was better training. They trained soldiers to shoot a human targets, made it more instinctual, got better guns and made it easier for kids to shoot people."
Grandpa Tobias's point is that their suspects so far — Clover, who's probably insane, and Nora, who stinks as even an ex-spouse to the accused deputy — don't feel like they're motivated by the usual killing causes: love, money, or rage.
Of course, Tobias has candidates for the killer role, based on his secret files that he's compiled on just about everyone on the islands. But Tish isn't supposed to leak word of those files … a difficult position to be in, considering other people already suspect they exist.
My money's on the hippies. Take their leader, Mars, for instance, who tells Tish, "Death is just the next stage."
Trust me, Tish can't leave that performance note alone — she's on it. Rain or shine. No, wait a minute, this is the Pacific Northwest — rain or more rain, really.
If you're looking for a summer mystery that's likely to get you cheered up, in spite of murder and risk, and will find a way to have the forces of good triumph (or at least get kissed?), pick up AGAINST THE UNDERTOW. Published by one of several businesses that Maines plays with, Blue Zephyr Press, and available at online retailers in softcover or ebook. You don't need to read the books in sequence — let me know if you find yourself lured to get more Bethany Maines capers.
If you're looking for a summer mystery that's likely to get you cheered up, in spite of murder and risk, and will find a way to have the forces of good triumph (or at least get kissed?), pick up AGAINST THE UNDERTOW.
I loved, loved, loved these two books. It's a series I hope goes on forever.
Loved this book! I really couldn't put it down … Ms. Maines has a very good sense of humor and the main character, Tish, really appealed to me. I loved the setting, and even though I haven't been there from the descriptions in the book it was easy to imagine myself in the San Juan Islands in Washington state. I can see that this will make a great series with original characters and many fun situations to entertain me/us. I am very much looking forward to the next book! Hopefully there will be a series?
I loved this book, it was full of quirky characters, a stubborn deputy, and lots of plot twists.
This book was wonderful! I purchased it as an unknown, and it was the best surprise. Sometimes we just get lucky. Very nice humorous touches with realistic situations. Tish and Tobias are a wonderful granddaughter, grandfather combo. I hope that this storyline continues on.
It is difficult to stop reading the book once you start. If you appreciate a fascinating, cleverly plotted, entertaining mystery with numerous twists and turns, making it a delightful read, this book is for you. I'm looking forward to reading of Tish's adventures as she acclimates to Island living.
I really enjoyed this book especially for the writing style. This is my first time with this author and since the new book in the series is coming out in June I had to buy this one and I'm sure glad I did. Well written and edited. What I enjoyed the most is the realistic interactions & dialogue between the characters. The dialogue was very blunt and sarcastic at times but was very true to life and made the characters very real. Really liked Tish and her 78 yr old grandfather Tobias who is former CIA and their relationship.
This book will keep you guessing until the end! 
It reminds me of the Stephanie Plum mysteries – I couldn't stop laughing the entire time I was reading. 
AN UNSEEN CURRENT
You never know what's beneath the surface.
When Seattle native Tish Yearly finds herself fired and evicted all in one afternoon, she knows she's in deep water. Unemployed and desperate, the 26 year old ex-actress heads for the one place she knows she'll be welcome – the house of her cantankerous ex-CIA agent grandfather, Tobias Yearly, in the San Juan Islands. And when she discovers the strangled corpse of Tobias's best friend, she knows she's in over her head. Tish is thrown head-long into a mystery that pits her against a handsome but straight-laced Sheriff's Deputy, a group of eccentric and clannish local residents, and a killer who knows the island far better than she does. Now Tish must swim against the current, depending on her nearly forgotten acting skills and her grandfather's spy craft, to con a killer and keep them alive.
Blue Zephyr Press • Print & E-Formats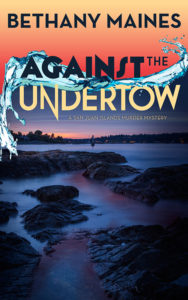 AGAINST THE UNDERTOW
You never know what will drag you down.
Former actress Tish Yearly is determined to turn an old Orcas Island homestead into the premier wedding venue in the San Juans Islands of Washington, but money, skill and her grandfather, Tobias Yearly, are all standing in her way. Tobias, the septuagenarian ex-CIA agent, wants them to become private investigators. Tish might be able to ignore her grandfather's whims, except that her one time love interest and current friend, handsome Sheriff's Deputy Emmett Nash, was just accused of murdering his ex-wife's boyfriend. Now Tish and Tobias are on the case, and it should be easy—after all, who could really think Nash was a killer?—but the further they investigate, the more people seem to be threatening her life: the police detective on the case, Nash's angry ex-wife, his psychotic ex-girlfriend, and a strangely venomous group of hippies. Almost everyone on the island seems determined to stop her. Tish is swimming against the undertow, but it might not be enough to save either Nash or herself.
Blue Zephyr Press • Print & E-Formats
Now available on Kindle Unlimited
AN UNFAMILIAR SEA
In a storm, you never know which way is home.
Tish Yearly is about to open a wedding venue on Orcas Island, in the San Juan Islands of Washington State. All she wants is to sail through her first wedding, figure out why her best friend isn't talking to her, and tell her grandfather she's dating someone he doesn't approve of. But before she can get to any of that, Tish's favorite employee turns up dead—apparently drowned in four inches of water. Now Tish, and her grandfather, former CIA agent and current curmudgeon and licensed P.I. Tobias Yearly, are wading through the suspects including a meth-cooking uncle, a brother with anger-management issues, and the mysterious island drug kingpin, who may or may not be going straight. Tish is attempting to navigate this unfamiliar sea, but she may not be able to weather the storms to find her way home.
Blue Zephyr Press • Print & E-Formats
COMING IN JANUARY 2020!