Free Book!
Whew! I can't believe we're half-way through April already!  Where did the last three months go?
How did I get here?
As I've blogged about previously, I decided to do an experiment in book launching for my most recent series by putting out all three books of the 3 Colors Trilogy in quick succession. February saw the release of A Little Red. With March came A Deeper Blue and in just a few short days, on April 27, I'll complete the trilogy with A Brighter Yellow.
Reader's Choice
From a reader perspective, I think this release strategy has been successful.  Readers are happy not to have to wait for their next hit of romance and adventure.  From my perspective… yeesh.  I'm tired.  This has been a hamster wheel of marketing. I'm not complaining.  I've enjoyed the lovely reviews and excitement from readers, but I think if I do this again, I'll probably put them at least a full 2 months a part.  I sincerely underestimated how much work it would be to keep the motor of marketing turning.
What's next?  And what's this about a free book?
However, the I'm not quite done yet. As I mentioned the final book in the trilogy won't be out until April 27, but before then, there is a special set of free days for A Little Red, allowing people to scoop up book 1  for FREE and get caught up before the release of book 3.  So if you're interested in snagging a free book just click the link below.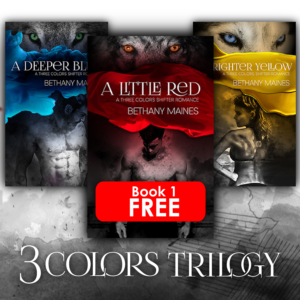 A fast-paced and spicy romance with lovable characters and an engaging story too, A Little Red is a fantastic initial installment in what promises to be a thrilling Trilogy.
— A Little Red Review, ManyBooks.net