It's release day for Against the Undertow! I'm so excited to bring this book out into the world. The San Juan Island Murder Mystery Series is a little like Matlock went to the beach. It features a cantankerous ex-CIA agent, Tobias Yearly, and his granddaughter, Tish, as they solve mysteries from their home on Orcas Island in Washington State. It's funny, it's romantic and it's full of twists and turns. This semi-cozy series has been a joy to research (mmm… food research) and write (I love my characters) and I hope that all of you enjoy it as much as I have.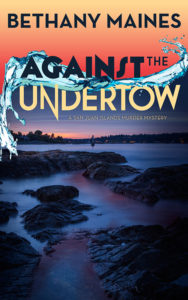 You never know what will drag you down.
Former actress Tish Yearly is determined to turn an old Orcas Island homestead into the premier wedding venue in the San Juans Islands of Washington, but money, skill and her grandfather, Tobias Yearly, are all standing in her way. Tobias, the septuagenarian ex-CIA agent, wants them to become private investigators. Tish might be able to ignore her grandfather's whims, except that her one time love interest and current friend, handsome Sheriff's Deputy Emmett Nash, was just accused of murdering his ex-wife's boyfriend. Now Tish and Tobias are on the case, and it should be easy—after all, who could really think Nash was a killer?—but the further they investigate, the more people seem to be threatening her life: the police detective on the case, Nash's angry ex-wife, his psychotic ex-girlfriend, and a strangely venomous group of hippies. Almost everyone on the island seems determined to stop her. Tish is swimming against the undertow, but it might not be enough to save either Nash or herself.
And this month you can also pick book 1 – An Unseen Current – for ¢.99.
You never know what's beneath the surface.
When Seattle native Tish Yearly finds herself fired and evicted all in one afternoon, she knows she's in deep water. Unemployed and desperate, the 26 year old ex-actress heads for the one place she knows she'll be welcome – the house of her cantankerous ex-CIA agent grandfather, Tobias Yearly, in the San Juan Islands. And when she discovers the strangled corpse of Tobias's best friend, she knows she's in over her head. Tish is thrown head-long into a mystery that pits her against a handsome but straight-laced Sheriff's Deputy, a group of eccentric and clannish local residents, and a killer who knows the island far better than she does. Now Tish must swim against the current, depending on her nearly forgotten acting skills and her grandfather's spy craft, to con a killer and keep them alive.