I've been working very hard this year on multiple projects and I'm finally beginning to be able to share some of them with you. I'm excited to announce that October will see the release of Book 1 of my new Shark Santoyo Crime Series. Launching a new series is incredibly difficult and one of the hardest things to garner are reviews on reputable sites like Amazon and Goodreads. So toward that end I'm giving all of you the opportunity to become a part of my Advance Reader Team. Sign up using the form below and you'll be taken to the down load page to get a free digital copy of Shark's Instinct and in a few weeks I'll send you a reminder email to leave a review. That's it. No strings, just a free book. I hope you'll join me as I venture into this new series!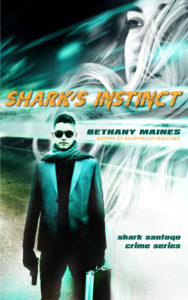 Shark's Instinct: Fresh out of prison and fresh out of luck, twenty-something Shark wants back into The Organization. But when Geier, the mob boss with a cruel sense of humor, sends Shark to the suburbs to find out who's been skimming his take, Shark realizes he's going to need more than his gun and an attitude to succeed. With the clock ticking, Shark accepts the help of the mysterious teenage fixer, Peregrine Hays, and embarks on a scheme that could line his pockets, land him the girl and cement his reputation with the gang—if he makes it out alive.
PRE-ORDER HERE or join the Advanced Reader Team using the form below!







https://bethanymaines.com/wp-content/uploads/2017/05/Shark-Facebook-Ads_desktop.jpg
470
470
Bethany Maines
https://bethanymaines.com/wp-content/uploads/2016/08/Aug2016-Logo-op3-300x69.png
Bethany Maines
2017-09-13 09:00:08
2017-09-13 02:47:43
A New Series with Bite!