An Unfamiliar Sea officially launches this week! An Unfamiliar Sea is a classic mystery with two sleuths: 28-year-old Tish Yearly and her 79-year-old grandfather Tobias.  Tish and Tobias navigate the rocky waters of living together in Tobias's house on Orcas Island in the San Juan Island of Washington state, solve murders, and try to keep their dog Coats from getting diabetes.
This series was inspired by the time I spent assisting my grandmother before she moved out of her house, my childhood trips to Orcas Island and by those enduring one hour mystery shows like Murder She Wrote, Matlock, and Psych.  For me those shows were always about enjoying the quirks and foibles of the characters as much as the mystery. I enjoyed the puzzle of working out how someone died, but I loved seeing how the strengths and weaknesses of the detective would play out each week and how they would triumph in the end. And if you ever read any of my books, you'll quickly realize that I like books with lots of chuckles and quick banter and these books are no exception. From Tish and Tobias arguing about condolence pie to the neighbors and who all have opinions on Tish's dating life I try to keep readers laughing too hard to figure out the mystery (but good for you if you do!).  So if you want a mystery that makes you smile and feels like an island vacation between two covers, then please take a trip to the San Juan's with Tish and Tobias Yearly.
**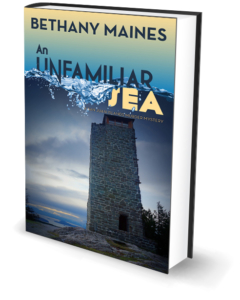 AN UNFAMILIAR SEA 
In a storm, you never know which way is home.
Tish Yearly is about to open a wedding venue on Orcas Island, in the San Juan Islands of Washington State. All she wants is to sail through her first wedding, figure out why her best friend isn't talking to her, and tell her grandfather she's dating someone he doesn't approve of. But before she can get to any of that, Tish's favorite employee turns up dead—apparently drowned in four inches of water. Now Tish, and her grandfather, former CIA agent and current curmudgeon and licensed P.I. Tobias Yearly, are wading through the suspects including a meth-cooking uncle, a brother with anger-management issues, and the mysterious island drug kingpin, who may or may not be going straight. Tish is attempting to navigate this unfamiliar sea, but she may not be able to weather the storms to find her way home.
Learn more about Tish Yearly: Dru's Book Musings Character Interview
Buy the book: Amazon