In the Christmas classic, A Christmas Story, the father wins a "major award" which turns out to be a leg lamp that arrives in a large box marked "fragile." His love for the major award is only matched by his wife's hatred for the fishnet clad leg and the battle between the two has never stopped being funny.
This week, I was reminded of the leg lamp when I won my own "major award." I recently converted my story Blue Christmas to a screenplay and submitted it to some screenplay contests that provided feedback to all entries.  As a first time screenplay writer, it was the feedback that I was pursuing.  In novel writing, it's hard to find a beta reader that can help identify problems.  Most readers are not analytical and are really just there to enjoy the book (and that is just fine and there's no reason to change!), but to advance a project it sometimes requires someone be more critical.  I've been fortunate to find a handful of good beta readers for my novels, but when it came to a screenplay I was at a loss! So I was excited to get feedback from genuine screenplay professionals.
The first contest said my script was "VERY close" and provided some valuable insights.  And this week I received notice from the second contest that I had been selected as a winner! The only way I could be prouder is if it came with a leg lamp. Winners have their screenplay's opening scenes read by professional actors in a "table reading." Which is pretty much what it sounds like – actors at a table doing a reading of the script.  The table reading is filmed and posted on the contest site, so obviously I will linking that here when the video goes live.  I can't wait to see actors saying words that I've written!  And I'm excited to continue my adventures in scriptwriting.
And case you want a sneak peak at this action-packed romantic comedy before it hits big screens (I wish!)…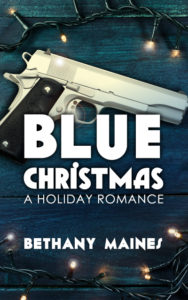 $1.99 – Amazon · Barnes & Noble · Kobo · Itunes
High-rise burglary to pay for her grandmother's cancer treatments might not be ideal, but Blue Jones is determined to do what it takes to get her grandmother the best care possible. She just didn't plan on being tackled by gorgeous Jake Garner. Jake, drunk and recently dumped, mistakes Blue for the dog sitter and begins shoving his ex's belongings at her including her French Bulldog—Jacques. But soon Jake is being pressured to return the dog and Blue is being targeted by mysterious attackers. Can Jake and Blue stop these mystery men without also getting Blue arrested for theft? For Blue, Christmas has never been quite so dangerous. For Jake, Christmas has never been quite so Blue.