Your email has been received!
Thank you for your interest!  Please check your inbox for an email from info@bluezephyrpress.com
Check out these other books from Bethany Maines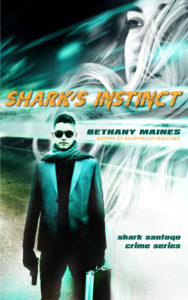 Fresh out of prison and fresh out of luck, twenty-something Shark wants back into The Organization. But when Geier, the mob boss with a cruel sense of humor, sends Shark to the suburbs to find out who's been skimming his take, Shark realizes he's going to need more than his gun and an attitude to succeed. With the clock ticking, Shark accepts the help of the mysterious teenage fixer, Peregrine Hays, and embarks on a scheme that could line his pockets, land him the girl and cement his reputation with the gang—if he makes it out alive.
Think you're alone in this city? Think again. Goblins, faeries, and werewolves are all clawing for their piece of the American dream in Tacoma, Washington.  Ariana Grace is not just your average antiques dealer. This half-faery can sell you all the best "assets" – a great sense of humor, a new memory, or just the right amount of luck.  But be warned – magic can be tricky business. Everything may not go as you planned. Join Ariana in 8 short stories set in The City of Destiny.
Welcome to the universe of Galactic Dreams, where fairy tales are reimagined for a new age—the future. In each Galactic Dreams science-fiction novella you'll find an old tale reborn with a mixture of romance, technology, aliens and adventure, all sharing the same universe, technology, and history. The Galactic Dreams collection features three novellas inspired by Mulan, Thumbelina, and Sleeping Beauty, from authors Bethany Maines, Karen Harris Tully, and J. M. Phillippe.
When ex-actress Tish Yearly finds herself fired and evicted all in one afternoon, she knows she's in deep water. And going to stay with her ex-CIA agent grandfather, Tobias, in the San Juan Islands is bad enough, but when she discovers the strangled corpse of Tobias's best friend, she knows she's in over her head. Now Tish must swim against the current, depending on her nearly forgotten acting skills and her grandfather's spy craft, to con a killer and keep them both alive.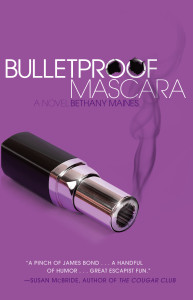 When unemployed twenty-something Nikki Lanier was offered a position with the Carrie Mae cosmetic corporation, she leapt at it. But soon, Nikki learns that the powder and lipstick are simply cover-up for the Carrie Mae Foundation: a secret organization of international espionage and high-tech mascara founded for the purpose of "helping women everywhere."  This might be her dream job, but she might need some Bulletproof Mascara to survive.
When a complex mission and her relationship go sideways thanks to some Carrie Mae politics, Nikki is left stranded in Europe, babysitting bad-boy pop star Kit Masters, and on the trail of a Basque anarchist. But dodging bullets has never been more romantic as she and Kit make a dash through Paris to capture the terrorist and Nikki might just need to make a Compact with the Devil to resist Kit's charms and solve her case.
When Nikki's visit home is interrupted by drug smugglers (and the ex who broke her heart), Nikki must call in the girls to help her solve the mystery. But she also has to keep her family – and her boyfriend – in the dark about what she really does for a living. Soon Nikki must choose between keeping her secret and keeping her loved ones alive. Nikki might be a High-Caliber Concealer, but this time it might not be enough.
When Nikki Lanier's nemesis Val Robinson returned from the dead with a request to rescue Nikki's long-absent father, Nikki dropped everything to go do it. But soon Nikki realizes that if wants her life back, she's going to have not only save her father, but convince her boyfriend that Carrie Mae isn't a terrorist organization, and stop an international arms dealer. Can she do it, or is it a Glossed Cause?