LOVE & TREASURE
Hunting for pirate treasure has never been more romantic.
Or funny.
Chase Regard is captain of the nearly-historically-accurate pirate ship Cupid's Revenge, a pirate-themed restaurant and dinner show, and the mountain of debt that came with both. But Chase has an ace up his sleeve: his ancestor left a heap of treasure somewhere on the coast near Ashville, Oregon. All Chase needs to find it is the help of the red-headed, fiery, and only occasionally forgetful, academic Dr. Jenna Mackenzie, the director of the Ashville Museum. But when Chase and Jenna team up they must face the town's history-buff bully, accusations of theft, and an oncoming storm before they find out that X marks the spot for love and treasure.
Coming in July 2020!
Available in Nook, Kobo, iBook, Kindle.
from Blue Zephyr Press
E-story • $1.99
OH, HOLY NIGHT
A Romantic Holiday Adventure
Christmas is a lot more dangerous than it used to be. Graphic designer Violet Harper is usually found at her local Starbucks. Handsome Roman Knox is usually carrying a gun. But tonight they're both in a bank and there's a body on the floor. It's a mess, a robbery and almost the worst day ever, but maybe a Christmas miracle can get them out of the bank and into love.
Currently unavailable for purchase. Read online at: frolic.media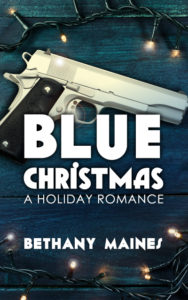 BLUE CHRISTMAS
A Romantic Holiday Adventure
Blue Jones just stole Jake Garner's dog. And his heart. But technically the French Bulldog, Jacques, belongs to Jake's ex-girlfriend. And soon Jake is being pressured to return the dog and Blue is being targeted by mysterious attackers. Can Jake find Blue and Jacques before her stalkers do? For Blue, Christmas has never been quite so dangerous.  For Jake, Christmas has never been quite so Blue.
Available in Nook, Kobo, iBook, Kindle.
E-story • $1.99