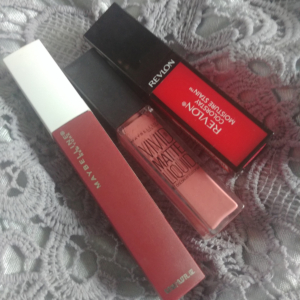 Recently I found yet another lipstick tucked in a purse and I went to put it in the lipstick repository in my bathroom cupboard.  Which is when I realized that I may have a teensy lipstick acquisition problem.  As in, I can't stop acquiring them. Then I thought I would go through and clean them out, but as I lifted the first precious tube of tinted fats and mystery chemicals I realized that I couldn't do it.  I couldn't remember if it was one of the good ones!  Every woman I know has the slush pile of failed cosmetics and then the preferred pile.  But in the case of my lipsticks I have thrown them all together and can no longer remember which is which.  So in an effort to weed through my pile I have decided to wear all my lipsticks this month and test if it's a keeper or a goer.  I'll be posting my conclusions through-out the month.
#1 – Maybeline – Color Stay – Voyager – Goes on as a liquid with a fuzzy tipped applicator.  It does stay on for most of the lip.  However, eventually it wears off on the moister interior line of the lips and also if you eat something. Which isn't noticeable unless you talk.  Unfortunately, I do talk, so…  Basically, don't think you can apply and forget about it for the rest of the day.  On the upside, it does not feel cakey. On the down side, dries fairly hard and requires make-up remover to get off.  Other option for removal – apply chapstick on top and then wipe off.  My thought was that it might be useful for a short term work event, but required too much maintenance to be an all day look, which seems annoying for a long wear lipstick.
Decision:  It's on the chopping block.  I'm only keeping it if I don't have something else in a similar color.
#2 – Maybeline – Vivid Matte Liquid – Nude Flush – Like the first one it goes on with a fuzzy tipped applicator.  Pretty decent staying power and it doesn't get tacky or cakey after wear.  Also on the plus side, it's a clear container so you can see the actual color.
Decision:  It's a keeper.
#3 – Revlon – Colorstay Moisture Stain – Shanghai Sizzle – Another liquid and fuzzy tipped applicator. Color is very vibrant, but kisses off on whatever it comes in contact for hours after words and never really "sets".
Decision: Toss it.