WILD WATERS
His duty. Her secrets. The mission that brings them together will tear them apart.
In the steamy jungle of 1960's era Vietnam, when a team of Navy SEALs are brought together with a pair of reporters, no one is prepared for the explosive secrets their encounter will reveal. Lt. Ben Kolley, former WWII frogman, leads one of the first teams of Navy SEALs, including the elusive point-man with an uncanny sense of the water – Catch. The reporters, a drunken writer, and Kahele, a female photographer with dark eyes and an even darker secret are the first allowed to interview a SEAL team. But neither Kahele or Catch are prepared to discover an attraction for each other that's like nothing they've ever experienced. Soon, Catch is breaking all the rules to be with her, and Kahele finds herself entangled by a passion she's never felt before. But for Ben, Kahele dredges up horrifying memories of an old mission – one where not all of his team returned. Can Kahele be trusted or is she the monster Ben fears? The clock is ticking, and soon all their lives may depend on Ben.
Blue Zephyr Press • E-Formats
A steamy romance … resulting in a giant twist. Compelling with great characterizations.
Fascinating story. Full of intriguing characters and a plot that kept me turning the pages.
The pace moves quickly with good plot twists. A recommended read.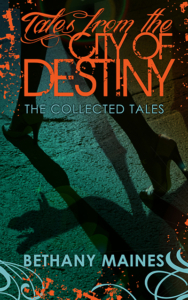 Think you're alone in this city? Think again. Goblins, faeries, vampires, and werewolves are all clawing for their piece of the American dream in Tacoma, Washington.
Ariana Grace is not just your average antiques dealer. This half-faery can sell you all the best "assets" – a great sense of humor, a new memory, or just the right amount of luck.  If your problem seems impossible, if no one else can help, then Ariana Grace might have just the right asset for you. But be warned – magic has a mind of it's own – everything may not go as you planned.
– The Dragon Incident, Spells of Murder, and The Devil's Invitational have all been collected into one volume featuring five additional tales that reveal more about your favorite characters! Follow Ariana through 8 tales of mystery, murder, and adventure as she shows us just what's lurking in Tacoma's alley's, pool halls, and brothels.
Learn more about The City of Destiny!
Print & E-Formats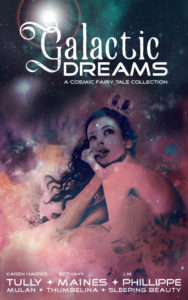 GALACTIC DREAMS
A Cosmic Fairy Tale Collection
Welcome to the universe of Galactic Dreams, where fairy tales are reimagined for a new age—the future. In each Galactic Dreams novella you'll find an old tale reborn with a mixture of romance, technology, aliens and adventure. But beware, a perilous quest awaits behind every star and getting home again will depend on a good spaceship, true love, and maybe just a hint of magic. Galactic Dreams is a unique series of science-fiction novellas featuring retellings of classic tales, all sharing the same universe, technology, and history. Galactic Dreams Volume 1 features When Stars Take Flight, Soldier Princess, Rebel Spy,  and Aurora One, inspired by Thumbelina, Mulan, and Sleeping Beauty, from authors Bethany Maines, Karen Harris Tully, and J. M. Phillippe.
Blue Zephyr Press • E-Formats
GALACTIC DREAMS: When Stars Take Flight
(Thumbelina) by Bethany Maines
Alliance Ambassador Lina Tum-Bel knows she's up against a galaxy full of trouble as she attempts to rebuild the Interstellar Alliance, but she never thought a simple mission to reconnect with the space bases of Nebula Six would have her fleeing for her life with an army behind her. Kidnapped by the To'Andans, tortured by the Moliter, and rescued by Sparrow Pandion—the spy who hides a secret pain—Lina must battle for her freedom, her survival and her heart. Her training says that she can't trust her handsome rescuer, but her telepathic gift says there is no one she can trust more. Maybe together, she and Sparrow can learn to fly.
Soldier, Princess, Rebel Spy – (Mulan) by Karen Harris Tully – Ruled by the Royals from their distant moon, colony planet Lyric labors under the burden of outrageous tithes and a deadly plague. Rebel soldier, Wei Meilin experienced both struggles first-hand when, unable to pay the tithe and purchase the cure, her family was destroyed by the plague. Meilin survived, but not without receiving a powerful plague "gift" all her own. Now she's out for revenge and to dethrone cruel Empress Ming-Zhu. But when Meilin infiltrates the gilded moon palace disguised as a bride candidate for annoyingly handsome Prince Cormorin, she discovers that he may not be the monster she thinks, and the Rebels may be aligned with a force that will end them all. 
Aurora One – (Sleeping Beauty) by J.M. Phillippe – Chavri Aisling should have died on her naming day. Instead, after being poisoned during an assassination attempt, she lives her life hiding behind masks, veils, and force-fields, never able to share the same air as anyone else. But the princess of Moarga Province is determined not to let her illness stop her from finding the one thing her planet desperately needs—metal that can be used to make more space ships so that her people can find the other lost colonies of Earth. Her search takes her into an unexplored corner of her solar system where a terrifying discovery leaves her frozen. Resuscitated by the least-likely prince over three generations later, Chavri has one chance to save what's left of Moarga from invasion, and the love of her life from a fate worse than death.