WILD WATERS
His duty. Her secrets. The mission that brings them together will tear them apart.
In the steamy jungle of 1960's era Vietnam, when a team of Navy SEALs are brought together with a pair of reporters, no one is prepared for the explosive secrets their encounter will reveal. Lt. Ben Kolley, former WWII frogman, leads one of the first teams of Navy SEALs, including the elusive point-man with an uncanny sense of the water – Catch. The reporters, a drunken writer, and Kahele, a female photographer with dark eyes and an even darker secret are the first allowed to interview a SEAL team. But neither Kahele or Catch are prepared to discover an attraction for each other that's like nothing they've ever experienced. Soon, Catch is breaking all the rules to be with her, and Kahele finds herself entangled by a passion she's never felt before. But for Ben, Kahele dredges up horrifying memories of an old mission – one where not all of his team returned. Can Kahele be trusted or is she the monster Ben fears? The clock is ticking, and soon all their lives may depend on Ben.
Blue Zephyr Press • E-Formats
A steamy romance … resulting in a giant twist. Compelling with great characterizations.
Fascinating story. Full of intriguing characters and a plot that kept me turning the pages.
The pace moves quickly with good plot twists. A recommended read.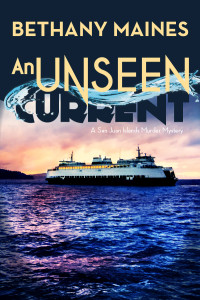 AN UNSEEN CURRENT
You never know what's beneath the surface.
When Seattle native Tish Yearly finds herself fired and evicted  all in one afternoon, she knows she's in deep water. Unemployed and desperate, the 26 year old ex-actress heads for the one place she knows she'll be welcome – the house of her cantankerous ex-CIA agent grandfather, Tobias Yearly, in the San Juan Islands. And when she discovers the strangled corpse of Tobias's best friend, she knows she's in over her head. Tish is thrown head-long into a mystery that pits her against a handsome but straight-laced Sheriff's Deputy, a group of eccentric and clannish local residents, and a killer who knows the island far better than she does. Now Tish must swim against the current, depending on her nearly forgotten acting skills and her grandfather's spy craft, to con a killer and keep them alive.
Blue Zephyr Press • Print & E-Formats
Read a review from Kingdom Books
Loved this book! I really couldn't put it down ... Ms. Maines has a very good sense of humor and the main character, Tish, really appealed to me. I loved the setting, and even though I haven't been there from the descriptions in the book it was easy to imagine myself in the San Juan Islands in Washington state. I can see that this will make a great series with original characters and many fun situations to entertain me/us. I am very much looking forward to the next book! Hopefully there will be a series?
I loved this book, it was full of quirky characters, a stubborn deputy, and lots of plot twists.
This book was wonderful! I purchased it as an unknown, and it was the best surprise. Sometimes we just get lucky. Very nice humorous touches with realistic situations. Tish and Tobias are a wonderful granddaughter, grandfather combo. I hope that this storyline continues on.
It is difficult to stop reading the book once you start. If you appreciate a fascinating, cleverly plotted, entertaining mystery with numerous twists and turns, making it a delightful read, this book is for you. I'm looking forward to reading of Tish's adventures as she acclimates to Island living.