I was talking to a librarian the other day and she laughed when I said I thought librarians were like drug dealers.  But they really are! They even target the little kids! Get them hooked on the picture books, next thing you know the kids are applying for library cards and mainlining Harry Potter, Divergent and TheTesting.  Give it a few years and YA just won't give the same buzz and the kids have to move on to bigger and bigger fiction.  And that's when the librarians start pushing the hardcore stuff – Faulkner, Atwood, Joyce. If you're not careful your kid could end up reading the entire Lord of the Rings even though there's a perfectly good director's extended cut blue ray back home.
And just like pushers, librarians are extremely open-minded.  They don't care where you've come from.  Rich, poor, or in between – all library cards are the same to them.  (Unless it's an out of state card, in which case you will have to pay the buck and get a local card.)  They don't even judge when all you want to read is Romance novels; they just point you toward the romance section and recommend new authors who also write in the kilt and dragon milieu.  It's a slippery slope, my friends. You go into the library for the videos and the free internet access and the next thing you know you're reading and using words like "milieu."
So, if that kind of blatant pushing of mind-expanding education is acceptable to you, then you should probably hug the next librarian you see.  Just remember that the VIG on those late library books is due next week…
https://bethanymaines.com/wp-content/uploads/2016/08/Aug2016-Logo-op3-300x69.png
0
0
Bethany Maines
https://bethanymaines.com/wp-content/uploads/2016/08/Aug2016-Logo-op3-300x69.png
Bethany Maines
2014-12-10 02:00:56
2014-12-09 18:51:11
The Dealer in Your Neighborhood
The Navy SEALs must pass through something called Hell Week in order to become an actual SEAL. If they can't take Hell Week they can always ring the bell that signals that they are opting out and then they get coffee and donuts. For five and a half days the SEAL candidates are expected to operate on four hours of sleep while being cold, wet, and presumably yelled at (since no one seems to do anything in the military without being yelled at). To this I say… What pansies.
OK, the cold and wet does sound miserable. But try operating for three months on four hours of sleep while being constantly yelled at and then having someone puke in your pants. And in your hair. And on just about everything else. Then we'll talk. OK, OK, so you can snap a man's neck with your bare hands. I can shoot milk out my boob. What else you got?
All kidding aside, one of the unfortunate side effects of becoming a mother (or probably a Navy SEAL) is that sleep is immediately curtailed. Which makes lots of things, for instance, writing novels and running a business, more difficult.
Side effects of prolonged sleep deprivation include:
Weight Gain
Loss of Sex Drive
Impaired Alertness, Concentration, and Problem Solving
Depression
Aging Skin
Memory Loss
Greater chances of death due to accidents
Greater chances of other health problems
It's not that being a mom is so difficult; it's that being anything else, while being a mom just increased in difficulty due to our adorable little time sucking children and the constant sleep deprivation. Which makes every word I type a minor triumph. I will not be ringing the bell today.
PS Please forgive any typos I may make. I blame them on my daughter.
https://bethanymaines.com/wp-content/uploads/2016/08/Aug2016-Logo-op3-300x69.png
0
0
Bethany Maines
https://bethanymaines.com/wp-content/uploads/2016/08/Aug2016-Logo-op3-300x69.png
Bethany Maines
2014-11-05 01:00:28
2016-02-23 18:08:02
Hell What Now?
Originally Published at www.girlfriendsbookclub.org
This month we're blogging about our characters dossier with the idea that they're filling out an online dating profile. My series, the Carrie Mae Mysteries, features an all female spy organization run by a make-up company with the goal of women everywhere. My main character, Nikki Lanier, a top level Carrie Mae agent, also happens to be dating a CIA agent. And with all those spies running around, I had to create dossiers on my characters just to keep track of their cover stories. Go to Top Secret, to get the inside scoop on all things Carrie Mae – from characters dossiers to gadgets.
But as I sat down to type up Nikki's details for this blog I started to wonder, just how strong was my dossier? I think I've created a very real character, but how good a job have I done? So in the interest of "science" I went to chemistry.com and took their free personality test as Nicole Lanier. And it came back that Nikki is (drumroll please): A negotiator / director. (See below for further explanation). Which I think nailed the character pretty well. Of course, if I were really interested in "science" I'd set up one for her boyfriend and see if the computer god's matched them up…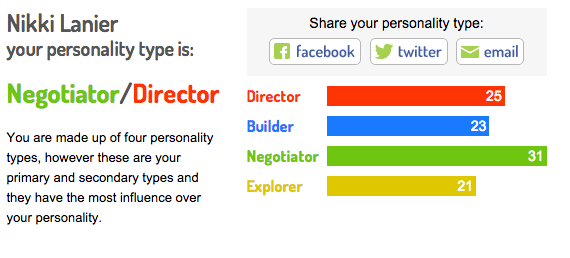 THE NEGOTIATOR (PRIMARY TYPE): You are imaginative. You are emotionally expressive and share your feelings. The big picture is what interests you most, and you like to assemble facts and focus on larger concepts. When you make decisions, you often think things through very carefully, weighing all the options before deciding what to do. People are important to you and you prefer to build intimate attachments with others, connecting on a deeply personal level.
Agreeable and unassuming, you can be very intuitive, and you generally prefer win-win situations that protect social harmony. You are very good at reading people, and this includes facial expressions as well as vocal inflections. You excel at what scientists call synthesizing, which means you collect lots of data and then find patterns that lead to larger concepts.
THE DIRECTOR (SECONDARY TYPE): You are very independent and admire self-control. Analytical, skeptical and exacting, you can be tough-minded and decisive. You enjoy competing and achieving, and you are usually mathematically or mechanically skilled. You generally have a few very close friends, rather than a big social circle.
https://bethanymaines.com/wp-content/uploads/2016/08/Aug2016-Logo-op3-300x69.png
0
0
Bethany Maines
https://bethanymaines.com/wp-content/uploads/2016/08/Aug2016-Logo-op3-300x69.png
Bethany Maines
2014-10-16 01:02:38
2016-02-15 06:52:26
Fictional Character, Real Personality