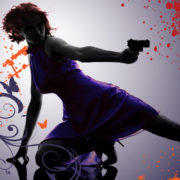 http://bethanymaines.com/wp-content/uploads/2017/05/CM-Facebook-Ads_desktop.jpg
470
470
Bethany Maines
http://bethanymaines.com/wp-content/uploads/2016/08/Aug2016-Logo-op3-300x69.png
Bethany Maines
2017-07-12 07:20:54
2017-07-11 22:25:46
Glossed Cause
Recently, I've been working on the sequel to my murder mystery An Unseen Current. While thematically not that different from my other books (a young person struggles with unusual circumstances while navigating the choppy waters of family, love, and friends), mysteries bring a special level of challenge to the mix. For one thing, people expect clues. Oh, there's a dead body? Well, writer, where are the clues? Chop, chop! Produce the clues!
However, it's not just about clues; it's about when to reveal those clues. Too early and readers are bored because they already solved it. Too late and it seems like the author is cheating and wedging information to justify who the killer is at the last second. Then, even if the writer does pop a clue in the right place, she can't be too precious about it. The author can't present it on a silver platter with a neon arrow stating: Clue Here!! To accomplish the correct where and when of clue placement requires a stronger outline than other genres. And that means that I must do what every writer hates doing—not writing.
Outlining and the synopsis are vital to a successful book. But they aren't the FUN part of writing. The fun part is churning out scenes and spending time with the made up people who populate my brain. Outlining requires problem solving and all the leg work of deciding back stories and motivations and the literal who, what, when, where and why of who was murdered. (It was Professor Plumb in the Library with the Candlestick, in case you were wondering.) But mostly it leaves me thinking: Are we there yet? What about now? Can I start writing now?
So wish me luck as I work out the kinks of how the dead body ended up behind a bar in Anacortes.
You never know what's beneath the surface.
When Seattle native Tish Yearly finds herself fired and evicted all in one afternoon, she knows she's in deep water. Unemployed and desperate, the 26 year old ex-actress heads for the one place she knows she'll be welcome – the house of her cantankerous ex-CIA agent grandfather, Tobias Yearly, in the San Juan Islands. And when she discovers the strangled corpse of Tobias's best friend, she knows she's in over her head. Tish is thrown head-long into a mystery that pits her against a handsome but straight-laced Sheriff's Deputy, a group of eccentric and clannish local residents, and a killer who knows the island far better than she does. Now Tish must swim against the current, depending on her nearly forgotten acting skills and her grandfather's spy craft, to con a killer and keep them both alive.
http://bethanymaines.com/wp-content/uploads/2017/06/gollums.jpg
636
640
Bethany Maines
http://bethanymaines.com/wp-content/uploads/2016/08/Aug2016-Logo-op3-300x69.png
Bethany Maines
2017-06-29 08:30:56
2017-06-27 17:54:32
Clues
I laughed when I read AB Plum's recent post about unhooking from the virtual world. It has been a long time since I didn't enhance my RL (real life) experience with some sort of virtual interaction. Photos on Facebook, the occasional witty comment on twitter, blogs and websites, they are all part of my life. Partially this is simply a function of my life and jobs. As a graphic designer and a writer, social networking is part of the must do list. As a designer, it's important that I be able to design ads for Facebook and other social media platforms and understand how the platforms function. As a writer, it's important that I use those platforms to reach an audience.
Which is not to say that I'm an expert. As a designer, I get to create content and simply walk away. The writer half of me definitely has it harder. I have to remember to post (you wouldn't think this was hard, but…), to come up with valuable and interesting content, and then not waste all of my writing time on marketing and social media. On the other hand, for the last six months I've been swinging very much the other way. I have not been doing a lot of marketing. I have in fact been writing. A lot. A ton. Lots of tons. So much so that I've planned out my releases for 2018 and 2019.
So, stay tuned for tons of updates later this summer. Crime, sci-fi, a touch of fairy tales, and of course more than a little bit of romance are heading your way. And strangely, I can't wait to start marketing ALL of it. If you want to get in on early give-aways (print and digital!) and announcements, join my mailing list at: bethanymaines.com/contact
***
ORIGINALLY POSTED ON THE STILETTO GANG 6.14.17
http://bethanymaines.com/wp-content/uploads/2017/06/finger-1002577_640-e1454807116260-640x300.jpg
300
640
Bethany Maines
http://bethanymaines.com/wp-content/uploads/2016/08/Aug2016-Logo-op3-300x69.png
Bethany Maines
2017-06-15 07:00:20
2017-06-20 23:23:42
Virtually IRL